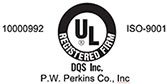 DECARBITE® - Removing carbon dioxide (CO2) from chemical gas streams.
P.W. Perkins Co., Inc. is the exclusive manufacturer of DECARBITE®, an absorbent material used to remove carbon dioxide (CO2) from gas streams. Our product, DECARBITE® is the industry leader in providing the most efficient CO2 absorbent agent available on the market since 1970. We are committed to satisfy our customer's needs by offering our unique product, DECARBITE®, with its proven performance and reliability as a carbon dioxide absorbent material and carbon dioxide scrubber.

P. W. Perkins Co., Inc. has been in the business of formulating of CO2 absorbing materials for use in numerous types of CO2 getters, CO2 filters, CO2 cartridges, and CO2 traps. We offer DECARBITE® in 500g units in several granular mesh sizes.
DECARBITE® is the perfect carbon dioxide absorbent material for your application. Contact us now with your requirements.
INDUSTRIES SERVED
Our products have served such industries as:
- Analytical Equipment
- Pure Gases
- Metallurgy
- Electronic Industry
- Research Institutions
- Manufacturing