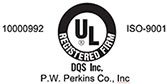 Quality Assurance with P.W. Perkins Co., Inc.
P.W. Perkins Co., Inc. adopted a total quality policy that applies to our products and services in 2002. We are committed to meeting and exceeding our customers' needs by providing quality formulated products and service in a timely manner. In order to achieve this goal, we have implemented the ISO 9001:2015 standard as a basis for ongoing quality improvement. Our current certification is by UL DQS Inc. Registration Certificate No. 10000992, valid until 11/18/2020.
The scope of our quality management system includes measuring and monitoring of our products/processes, measuring and monitoring customer satisfaction, applying continual improvement activities while preventing nonconformity occurences.
The manufacturing of DECARBITE® is based on well developed and optimized technology by P.W. Perkins Co., Inc. The production of this material is carried out in a batch process, according to strict adherence of the manufacturing procedure, enabling consistent and reliable quality of each batch of DECARBITE®.
The batch release procedure and all important parameters are documented in "Procedures Manual" and "Quality Assurance Manual". Both Manuals are part of ISO 9001:2015 certification and registration.
Each batch of DECARBITE® is tested against representative acceptance criteria before it is released for sale.
Acceptance of all raw materials from proven suppliers also makes it possible to maintain high quality standards of P.W. Perkins Co., Inc.
INDUSTRIES SERVED
Our products have served such industries as:
- Analytical Equipment
- Pure Gases
- Metallurgy
- Electronic Industry
- Research Institutions
- Manufacturing